v1.032 changelog "The Initiation" update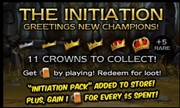 The Initiation event will run for the next two weeks randomly dropping Mugs of Ale in celebration of our newly arriving champions!
These mugs can be used to redeem various rewards via the Initiation popup!
Additionally, 1 mug will also be awarded for every $5 spent on diamonds.
Added 11 collectible Crowns which can drop from any reward chest!
Standard Crowns: 4, Rare Crowns: 2, Rare Elemental Crowns: 5
Added the Initiation Pack to the Diamond Shop.
The Initiation Pack drops special Unreal Crowns which contain particle effects!
Added new checks for Brawl "one shot kills"