v1.055 changelog "Thanksgiving Pilgrim Attack" Special Event!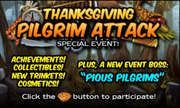 The Pilgrim Attack event has begun!
New Event Boss, Collection, Player & Guild Ladders, and Achievements!
-You must "Check in" daily to participate in Collection and Boss attacks!
-Each event screen has its own help button providing a brief description
-Event will run for 12 days before entering the Redemption period!
-Event Boss: Pious Pilgrims!
-Collection: Pies (Max 13/day)
-Limited Cosmetics: Pilgrim and Explorer hats!
-Limited Trinket Capsule: Thanksgiving Capsule (9 new trinkets)
-Limited Diamond Pack: The Thanksgiving Pack
-Daily rewards and tasks now drop Thanksgiving Trinket Capsules
-Boss Ladder, Guild Ladder, and Overall achievement ranks are not final until Redemption
-Grandmaster Progress Quests added featuring 4 Unreal weapons in the final 5 quests!
Ad blocker interference detected!
Wikia is a free-to-use site that makes money from advertising. We have a modified experience for viewers using ad blockers

Wikia is not accessible if you've made further modifications. Remove the custom ad blocker rule(s) and the page will load as expected.