Used for Ascending gear through the Ascension Tab of a level 12 or above Sanctum.

Can be acquired through:
1) Legendary Treasure Expedition
2) Single Matches and Arena
3) Brawl and Guild Warfare
4) Daily Tasks
5) Purchased through diamonds 10,000 for 45 diamonds, 50,000 for 215 diamonds, 100,000 for 400 diamonds
6) Redemption of Awards from Special Events
7) Converting Magical Essence
8) Claiming Awards through Recruitment  
9) Black magic event pack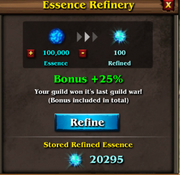 Ad blocker interference detected!
Wikia is a free-to-use site that makes money from advertising. We have a modified experience for viewers using ad blockers

Wikia is not accessible if you've made further modifications. Remove the custom ad blocker rule(s) and the page will load as expected.