v1.026 changelog "New Year's Mini-Event"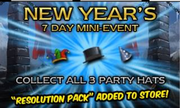 New Year's Event active from January 5 to January 12
Added 3 collectible New Year's Helms which drop from just about everything
Added Fireworks! particle effect
Added Resolution Pack to diamond store
Resolution Pack gives special team fireworks during battle for duration of event
Added Screenshot mode (Right click menu)
Fixed Level 20 xp gain issue
Added stacking for cosmetic items to improve inventory
Fixed guild level 25 perk changing
Fixed Respecialization base stat estimates
Lots of small fixes/catches to help figure out lingering bugs
Ad blocker interference detected!
Wikia is a free-to-use site that makes money from advertising. We have a modified experience for viewers using ad blockers

Wikia is not accessible if you've made further modifications. Remove the custom ad blocker rule(s) and the page will load as expected.