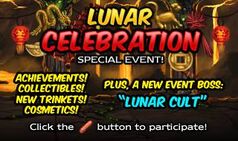 -The Lunar Invasion event has begun!
-New Event Boss, Collection, Player & Guild Ladders, and Achievements!
-You must "Check in" daily to participate in Collection and Boss attacks!
-Event will run for 14 days before entering the Redemption period!
-Collection: Gifts (Max 11/day)
-Limited Cosmetics: 3x Lunar hats!
-Limited Trinket Capsule: Lunar Capsule (8 new trinkets)
-Limited Diamond Pack: The Lunar Pack

Lunar Pack only cosmetics: Lunar weapons!
Daily rewards and tasks now drop Lunar Trinket Capsules
Boss Ladder, Guild Ladder, and Overall achievement ranks are not final until Redemption!

Improved captcha system

-Added pre-Event Boss Attack captcha check

-Account sharing is now strictly forbidden!
We are employing various measures to detect accounts being used by more than one player.are at risk of being suspended/banned. 
Rule clarification

Event Guild Ladder

- If a guild member's account is shared during an event, ALL KILLS CONTRIBUTED BY THE ACCOUNT WILL BE FORFEITTED.

Event Guild Ladder

If multiple accounts within a guild are caught sharing, THE GUILD'S LADDER SCORE MAY BE RESET TO ZERO.

Event Guild Ladder

- If a guild is caught rotating/swapping members to maximize score, THE GUILD'S LADDER SCORE MAY BE RESET TO ZERO.

-Guild Warfare

 (Reiteration of previous ruling) Temporarily joining a guild to participate in a guild war is forbidden. If an account is proven to have joined a guild to unfairly influence one match it will be suspended. If a guild routinely has temporary members it will be punished at our discretion.