During special events Limited pack can be bought.
Special event pack
Cost of $25 (no Limit to how many)
These offer
115 Diamonds
6000 gold
150 skulls
4 keys
2 Event Trinkets
On some occasions unreal Cosmetics can drop (If this is listed)
Aswell as 5 event collectables and 5 boss attacks.
The Black Magic Friday packs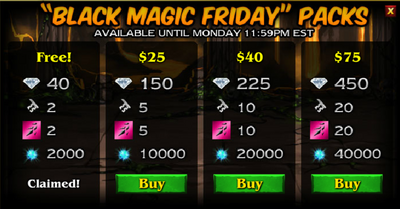 Ad blocker interference detected!
Wikia is a free-to-use site that makes money from advertising. We have a modified experience for viewers using ad blockers

Wikia is not accessible if you've made further modifications. Remove the custom ad blocker rule(s) and the page will load as expected.