v1.048 changelog "Harvest Brewfest" Special Event!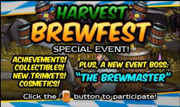 -The Harvest Brewfest event has begun!
-New Event Boss, Collection, Player & Guild Ladders, and Achievements!
-You must "Check in" daily to participate in Collection and Boss attacks!
-Each event screen has its own help button providing a brief description
-Event will run for 14 days before entering the Redemption period!
-Event Boss: The Brewmaster
-Collection: Brews (Max 11/day)
-Limited Cosmetics: Harvest Hats
-Rare Cosmetics: Harvest Weapons
-Limited Trinket Capsule: Brewfest Capsule (9 new trinkets)
-Limited Diamond Pack: The Brewfest Pack
-Rare Brewfest Pack bonus: 10% chance to drop Brewmaster set cosmetics
-Daily rewards and tasks now drop Brewfest Trinket Capsules
-Boss Ladder, Guild Ladder, and Overall achievement ranks are not final until Redemption!
-Added auto-tier-up (ATU) system for players with gear ratings far exceeding tier average
-Cases where ATU will act:
-Overpowered: Gear rating extremely high for current tier
-Sandbagging: Gear rating very high for current tier AND player losing
-Note: Gear rating is not the same as power rating. It is a new serverside measurement we've been using to track player strength
-Added tutorial fixer system to automatically reset tutorial state when leveling up if incorrect
-Improved anti-bot captcha system, now saves to prevent refresh abuse
Ad blocker interference detected!
Wikia is a free-to-use site that makes money from advertising. We have a modified experience for viewers using ad blockers

Wikia is not accessible if you've made further modifications. Remove the custom ad blocker rule(s) and the page will load as expected.