Began 24th oct 2014 
v1.018 changelog "The Monster Bash!"
Initiated special Halloween update "The Monster Bash!"
Added 5 Halloween helms (drop from battle, events, brawls, expeditions, and task rewards)
Added "Bats!" particle effect (for sale in Shop)
Fixed quick-sell/quick-salvage in reward popups
Prevented quick-sell/quick-salvage in purchase popups
Fixed rare battle connection issue
Considerably increased melee rogue move speed in Brawl
Modified Obelisk heal balance
Second Annual
Edit
Began 14th oct 2015.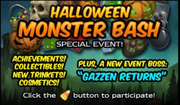 v1.051 changelog "Halloween Monster Bash" Special Event!
The second annual Halloween Monster Bash event has begun!
New Event Boss, Collection, Player & Guild Ladders, and Achievements!
You must "Check in" daily to participate in Collection and Boss attacks!
Each event screen has its own help button providing a brief description
Event will run for 24 days before entering the Redemption period!
Event Boss: Gazzen's Return! (and more!)
Collection: Candy (Max 7/day)
Limited Cosmetics: New weapons, halloween masks, and a full costume!
Rare Cosmetics: Memory Weapons
Limited Trinket Capsule: Halloween Capsule (13 new trinkets)
Limited Diamond Pack: The Halloween Pack
Daily rewards and tasks now drop Halloween Trinket Capsules
Boss Ladder, Guild Ladder, and Overall achievement ranks are not final until Redemption!
Halloween "throwback" cosmetics will be added to the drop pool later in the event!
Note:- First (and only?) Event where the Developers asked the Players for ideas about the creation of content for the Event. Many ideas (☀ http://www.riseofchampions.com/forum/showthread.php?1971-Halloween-Special-Event-COMMUNITY-IDEAS-THREAD) were implemented into the event.
Ad blocker interference detected!
Wikia is a free-to-use site that makes money from advertising. We have a modified experience for viewers using ad blockers

Wikia is not accessible if you've made further modifications. Remove the custom ad blocker rule(s) and the page will load as expected.