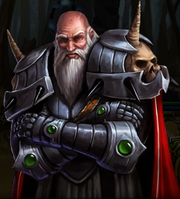 Griswald
is the mentor and an aid of the player in the game.
Character
Edit
Griswald is a talented and fierce warrior. He teaches the basics of gameplay and combat, as well as supplies the player with useful advice. He also steps into the battlefield to test the skills of a true champion.
Griswald plays as a warrior and is placed in the melee row.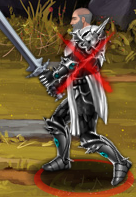 Griswald appears in the following battles:
Tutorial 1: Griswald is the first enemy of the player in the first battle. He uses Defensive Aura to shield himself from attacks. He has 36 HP, 50 stamina and 8 speed. Defeating him provides enough experience to level up.
Tutorial 2: Griswald also turns up in the second battle, this time with Kalista on his side. He uses Boot and Blade to deal extra damage. He has 48 HP, 55 stamina and 9 speed. Defeating his party provides enough experience to level up and open up a new character slot.
Tutorial 3: Griswald gets Damien to his party in the third tutorial battle. He uses Penetrating Strike. He has 97 HP, 55 stamina and 10 speed.
Ad blocker interference detected!
Wikia is a free-to-use site that makes money from advertising. We have a modified experience for viewers using ad blockers

Wikia is not accessible if you've made further modifications. Remove the custom ad blocker rule(s) and the page will load as expected.