This is a class that is almost god-like. Elementals are made of pure energy. They are found as a boss enemy in midsummer bonfire event and Spring Struggle. Also encountered in The burning one story.
Fire Elemental
Edit
Bonfire Spiritright|link=
melee: yes
magic: yes
ranged: no
Damage Type: Fire, Magic, Melee, Physical
stats:-
Hp mod=2
Stamina=Willpower*6
Base Speed=50
Skills: Burnout- +50% Damage, +25% Speed
Flame barrage (AOE)
old tier hp (Story 12)
t5-2064
t6-2128
t7-2192
t8-2272
t9- 2336
t10- 2400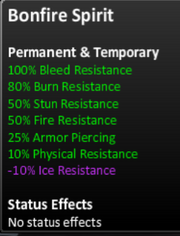 Ad blocker interference detected!
Wikia is a free-to-use site that makes money from advertising. We have a modified experience for viewers using ad blockers

Wikia is not accessible if you've made further modifications. Remove the custom ad blocker rule(s) and the page will load as expected.