v1.042 changelog "1 Year Anniversary" Special Event! 
-The 1 Year Anniversary event has begun!
-New Event Boss, Collection, Player & Guild Ladders, and Achievements
-You must "Check in" daily to participate in Collection and Boss attacks!
-Each event screen has its own help button providing a brief description
-Event will run for 15 days before entering the Redemption period!
-Event Boss: The Architects
-Collection: Balloons (Max 10/day)
-Limited Cosmetics: 6 Party Hats
-Limited Trinket Capsule: Anniversary Capsule (10 new trinkets)
-Limited Diamond Pack: The Anniversary Pack
-Daily rewards and tasks now drop Anniversary Trinket Capsules
-Boss Ladder, Guild Ladder, and Overall achievement ranks are not final until Redemption!
-New Cosmetics: Paladin, Bluejay, and Shinobi added to the Shop (old favorites!)
-Brawl AI team sorting bug possible fix
-New Grandmaster Tasks coming soon!
-Character based gem equipping coming soon!
-Event trinkets will no longer fall during redemption periods
2 Year Anniversary
Edit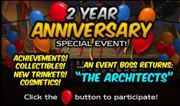 v1.070 changelog "2 Year Anniversary" Special Event!
-The 2 Year Anniversary event has begun!
-New Event Boss, Collection, Player & Guild Ladders, and Achievements!
-You must "Check in" daily to participate in Collection and Boss attacks!
-Each event screen has its own help button providing a brief description
-Event will run for 14 days before entering the Redemption period!
-Event Boss: The Architects Return!
-Collection: Balloons (Max 11/day)
-Limited Cosmetics: Party hats and Architect cosmetics!
-Architect armor pieces are rare cosmetics that can drop instead of party hats.
-Limited Trinket Capsule: Anniversary2 Capsule (8 upgraded trinkets)
-Anniversary2 trinkets are modified silver versions of trinkets released over the past year.
-Limited Diamond Pack: The Anniversary Pack
-Pack Cosmetics: Architect Weapons
-Daily rewards and tasks now drop Anniversary2 Trinket Capsules
-Boss Ladder, Guild Ladder, and Overall achievement ranks are not final until Redemption! 
-New special weapon particle effect for outstanding community members
-The +50% diamond bonus has been reset! (Does not apply to holiday/heroic packs)